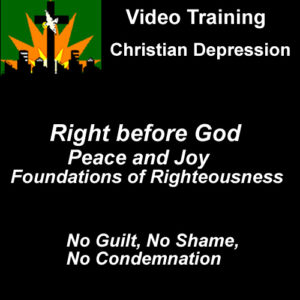 Guilt and Shame are usually associated with Depression,  for a Christian to overcome Guilt and Shame, our past must be forgiven and as scripture says "all things have become new" . This video is about becoming a new person in Christ.
Guilt and Shame can be defined as our conscience (spiritual realm), and Guilt and Shame are found in most people who suffer from Depression (underlying beliefs).
Guilt is concerned with wrongdoing, an activity, which tends to leave a person feeling uncomfortable.
GUILT is a healthy feeling in that it is the feeling we experience when we do something we judge, by our moral code, to be wrong.
John 16:8 And when he (Holy Spirit) comes, he will convict the world of its sin, and of God's righteousness, and of the coming judgment.
Guilt sparks insecurity, indecision and even poor decisions. It colors my decisions and my conversations and I'm always second-guessing myself (again, underlying beliefs) and changing them.
Shame is the inner experience of being "not wanted." It is feeling worthless, rejected, cast-out.
Shame is believing that one is bad. Shame is believing that one is not loved because one is not lovable.
Shame always carries with it the sense that there is nothing one can do to purge its burdensome and toxic presence.
Shame cannot be remedied, it must be somehow endured, absorbed, gilded, minimized or denied. Shame is so painful, so debilitating that persons develop a thousand coping strategies, conscious and unconscious, numbing and destructive, to avoid its tortures.
Shame is about embarrassment, humiliation, feeling of low value and above all, powerless to get rid of the shame.
Heb 8:12 For I will be merciful to their unrighteousness, and their sins and their iniquities will I remember no more.
Psalm 103:12 As far as the east is from the west, so far hath he removed our transgressions from us.
Col 1:22 – We are holy, unblameable and unreproveable in his sight:
Gal 4:6-8 – Abba Father we are Sons.
Heb 10: 1-6 Clean Conscious —
once purged should have had no more
conscience of sins, and their feelings of guilt would have disappeared.
Now through the N.T. our sins have been forgiven, and our conscious completely cleansed OF ALL SIN, by the blood of Jesus.
Isaiah 32:17 The fruit of that righteousness will be peace; its effect will be quietness and confidence forever.
Romans 14:17 For the kingdom of God is not a matter of eating and drinking, but of righteousness, peace and joy in the Holy Spirit.
The meaning of Righteousness, No Guilt, No Shame, No Condemnation.
Fellowship with your Father / The spirit of Adoption gives us.
Self esteem (worth), knowing you are loved unconditionally and this brings acceptance.
No human Psychotherapy could ever compare with the truth from the Word of God (I will remember your sins no more), to clear the conscious of the (underlying beliefs) of Guilt, Shame, and Condemnation of past sin.
Published on: Jun 30, 2015 @ 21:33
Author: Pastor Pat Buckley